• benefits of goat milk • cold process soap • Dry skin • gait milk soap • Goat milk soap • handmade skincare • healthy skin • homemade soap • Lotion bars • moisturize • natural ingredients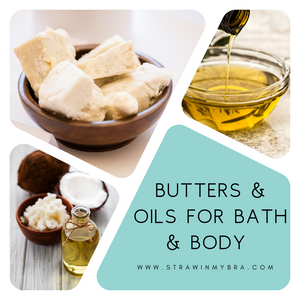 Looking for a way to give your skin some love? Look no further than the oils and butters used in handmade bath and body products! At Straw In My Bra, we offer a variety of options that can help soothe, hydrate, and protect your skin. From the antioxidant-rich olive oil to the tropical treat of coconut oil, these ingredients are sure to leave you feeling silky smooth. And with options like shea butter and cocoa butter, you can indulge in a little luxury while nourishing your skin. Give our products a try and see the difference for yourself – your skin will thank you!
---
• goat famer • goat yoga • nigerian dwarf goats
Goat yoga is one trend I will never understand.... Here's why....
---
• homesteading • sprouts
I have never had a green thumb when it comes to indoor plants but I have been obsessed recently with sprouting seeds in mason jars. I love sprouts on salads and sammiches and it's been easy and rewarding to grow my own alfalfa and broccoli sprouts on my kitchen counter. If you want to learn more about the benefits and method, check out the latest blog post for more info. It's so easy- if I can do it, anyone can!
---
• Dry skin • goat milk soap • healthy skin • healthy skin tips • Lotion bars • moisturize • winter skin
Winter is brutal on our skin- these simple tips help moisturize your skin and avoid the usual dry, flaky winter skin. Goat milk soap and lotion bars are available to help combat dryness.
---
• Goats • Goats kidding season
Want to know when your goat is going to have her babies- good luck! Goats like to keep us on our toes but hopefully this list will help you know what signs to look for that suggest your doe is about to kid.